Browse All Area Rugs
The decorative appeal of area rugs rivals their practical comfort. Plus, area rug cleaning is a breeze.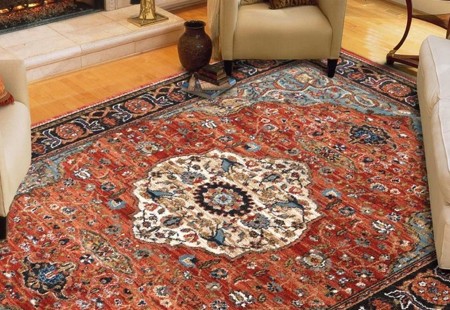 Why Choose Area Rugs
Aside from providing practical comfort, area rugs contribute a unique design element to your décor. Quite often, an area rug alone serves as the foundational centerpiece for a room's design theme, uniting color, pattern and texture in a way that balances a spaces other furnishings and accessories.
You'll find area rugs in a wide array of colors. When you shop online from the A&S Carpet Collection Rugs.Shop, you can filter by color to narrow your search to blue area rugs, green area rugs, red area rugs, and more. If you want to find a multicolor area rug such as black and white area rugs or even more colorful area rugs, we have those, too! Find your next gray area rug, white area rug, teal area rug, navy area rug, or any other color you can think of, and shipping is free of charge.
When it comes to rug shapes, we offer everything you can imagine – even more unusual forms such as oval area rugs and round area rugs. Some standard sizes include 4x6 area rugs, 5x8 area rugs, and 8 x 10 area rugs – however, we offer a far more diverse selection in our catalog. Shop for contemporary area rugs, more traditional looks, geometric designs and more online!
Modern area rugs feature an array of damage resistant technologies, but it's important to understand how to clean an area rug. For more information, talk to any A&S Carpet Collection representative.